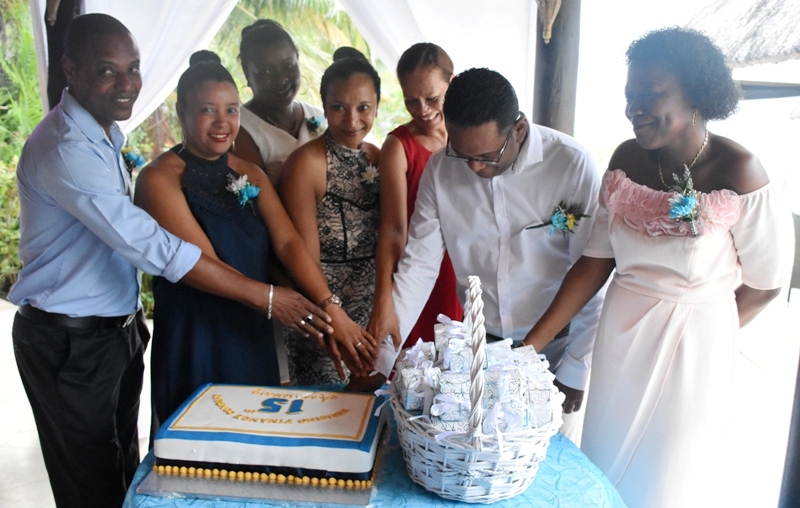 The Housing Finance Company (HFC) has rewarded its long-serving staff in commemoration of its 15th anniversary.
Betty Albert, Dominique Rene, Elvis Barreau, Joan Labrosse, Linda Otar, Monique Lucas and Ronny Palmyre (chief executive) were honoured in a reception organised to celebrate the 15 years of success and achievements of the company.
The reception was held on Saturday afternoon at the Sunset Beach Hotel, Glacis.
The long-serving staff were presented with their awards by the Minister for Habitat, Lands, Infrastructure and Land Transport, Pamela Charlette, assisted by the principal secretary for Infrastructure, Yves Choppy.
Also present were other staff from HFC and invited guests.
"It is my love for the job that has got me to stay on and also I feel a sense of satisfaction and very happy when I learn that our clients we have worked with finally get to enter in their new homes with their families. I love it here.  We work as a team," said Linda Otar.
The team work and satisfaction in helping clients to get the requested services were also echoed by the other awardees.
During the ceremony, Mr Palmyre launched HFC's new website that will provide access to information and for clients to post their queries and suggestions.
This was followed by the cutting of the commemorative cake by Mr Palmyre and six other awardees.
HFC, mandated by government to support the lower to middle class income earners with loans to construct, purchase, extend and renovate their houses, was commissioned on October 1, 2003. Prior to 2003, it was the Seychelles Housing Development Corporation (SHDC) which oversaw the financing and management of housing properties belonging to government. To be more proactive, it was decided to phase out SHDC to create two entities — the Properties Management Corporation (PMC) and HFC — with each focusing on one role. PMC was mandated to manage the government housing stock.